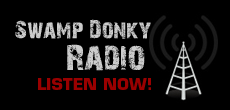 | | |
| --- | --- |
| | Also available at: |
| | Also available at: |

SwampDonky
Welcome to the SWAMP! SwampDonky's sound is pure rock with a modern feel, hard & edgy at times, funky & bluesy at others. The end result is a fresh new sound that integrates melodic sensibility with a healthy dose of old-school guitar-riff-laden drivin' grooves. Think Red Hot Chili Peppers meets Stone Temple Pilots meets The Black Crowes. SwampDonky puts the SOUL back into Rock N Roll!
SwampDonky is a fan-favorite on the San Francisco Bay Area music scene, appearing at several venues including the Great American Music Hall, 12 Galaxies, Rockit Room, Grant & Green, Beale Street Bar, Fat City, Blakes on Telegraph, the Time Out, and Rooster's Roadhouse.
SwampDonky's entire catalog is available for licensing in film, television, commercials, video games, or other media productions. Please contact us at licensing@swampdonky.com for placement.
SwampDonky lead guitar player, Tommy Huxley, has a new solo project called Tommy Huxley & Power Grease! Check out the promotional video on YouTube!