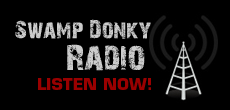 | | |
| --- | --- |
| | Also available at: |
| | Also available at: |

Biography of SwampDonky
Joel Anderson, Tommy Huxley, and Ryan Lorenzini came together in 2006, each having come from various other bands in the San Francisco Bay Area. Joel has played in several Bay Area bands, most notably with the alternative rock band Slight and the hard rock band Tirebelly. Tommy and Ryan had previously collaborated in a classic rock band known as The Pages.
SwampDonky was formed, and the three musicians began writing and recording tunes in their home studio, which ultimately resulted in the release of All Over The Map in June of 2007. However, the band was still in need of a dedicated bass player. In the summer of 2007, SwampDonky moved into The Annex Studios in San Lorenzo. In a stroke of luck, Tony Las Vegas occupied the studio next-door. His band at the time, Anxious Me was calling it quits, and Tony stepped right in to fill out the SwampDonky lineup.
Shortly thereafter, SwampDonky advanced to the San Francisco finals (following three elimination rounds) in the Emergenza Festival battle of the bands competition, held at the Great American Music Hall. SwampDonky placed in the top 4 (out of 23 finalists) overall, and drummer Joel was awarded "best drummer" in the competition.
SwampDonky continues to be active on the San Francisco Bay Area music scene, appearing at several venues including the Great American Music Hall, 12 Galaxies, Rockit Room, Grant & Green, Beale Street Bar, Fat City, Blakes on Telegraph, the Time Out, and Rooster's Roadhouse.
Additionally, the band has made their entire catalog of music available for licensing for placement in film, television, commercials, video games, or other media productions. The band's second release, Off The Hook, is generating buzz and has been accepted into various music placement catalogs.

SwampDonky puts the SOUL back into Rock N Roll!!!

For more information on licensing SwampDonky's music, contact us at licensing@swampdonky.com
For booking, contact us at booking@swampdonky.com

SwampDonky is not to be confused with SwampDonkey, Swamp Donkey, or Swamp Donky. Glad we got that straight!